It has never been easy to deal with stains and coffee spills on clothes and fabric. It is even more stressful when red wine or any colored liquid drops on your favourite white carpet or that beautiful upholstery cover. Removing stains caused by food spills is not only difficult, but it could also weaken the fabric of your Persian rug. Whenever you are faced with such a situation, you need our stain removal services in Wellington.

Having been in the industry for over 20 years, we have been able to clean carpets for residential and commercial clients getting hundreds of return customers in the process. The trust that our tough spot cleaning team enjoys in Wellington is as a result of the intensive research we conducted in a bid to find the best way to clean the toughest of stains. No matter how huge the stain might be on your rugs, you can be sure the best spot removal technicians won't leave your home until the carpets are clean and looking as good as new.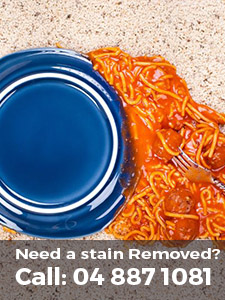 We pride in the ability to reach our clients no matter their location within the region. Our fully mobile team of experts always comes fully equipped with all the necessary tools needed for fabric cleaning and stain removal. It doesn't matter whether there are chewing gums stuck on your carpets or the upholstery is giving out a bad smell, trust our technicians to have the tough and stubborn stains eliminated. We have been offering spot & stain removal services in Wellington for a very long time and can confidently say that no stain is too difficult for us to remove.
We use powerful equipment, not to mention high-quality brushes that remove dirt from your rugs and upholstery without destroying the fiber. As far as our technicians are concerned, we always seek for better and simpler methods of washing your carpets. All the techniques we use are in accordance with relevant laws set by the governing body and take advantage of non-toxic cleaning detergents. Call our experts in Wellington for a quick inspection of your carpets or comprehensive